MICHELLE'S EMMY PICKS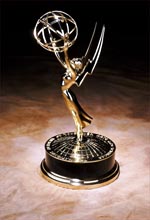 HOT OFF THE PRESSES!!! It's
Emmy Nomination
time, so here are my winner picks in some of the hottest categories. Call your bookie and reserve that MacLaren, cause the dough will be a-rollin' in shortly. On to our first HOT category:
Outstanding Single-Camera Sound Mixing
For A Miniseries Or A Movie

Angels In America
Lee Dichter, Re-Recording Mixer

Horatio Hornblower
Rudi Buckle, Production Sound Mixer

Ike: Countdown To D-Day
Alan Decker, Re-Recording Mixer

Traffic: The Miniseries
Eric Batut, Production Sound Mixer
OH SNAP!! I cannot believe they snubbed
The Reagans'
sound recordist (and on-set hottie)
Sylvain Arseneault
!!! It's amazing how Hollywood politics effect these nominations. Amazing and sickening, America.
WINNER:
I'm gonna have to go with Horatio Hornblower's Rudi Buckle. I'm sure all the HORNBLOWING made the job a thankless chore. Imagine the headaches! So a Toot Toot to you, Mr. Buckle!
Outstanding Choreography

2003 Jerry Lewis MDA Labor Day Telethon
Jason Samuels Smith, Choreographer

MADtv
Monie Adamson, Choreographer

Malcolm In The Middle
Fred Tallekson, Choreographer

Smucker's Stars On Ice 2004
Christopher Dean, Choreographer
Jamie Isley, Choreographer

This is a close one. The Smucker's Stars on Ice was a doozy of a time… I'd never seen jam, well, JAM like that!!*

*(I've just killed myself) But I'm gonna have to give it to:

WINNER: 2003 Jerry Lewis Telethon. Those sick kids can really cut a rug! And really, breakdancing on crutches? Kids with one good leg, and 3 shitty minutes to live hoofin' it? Mr. Lewis, you've done it again.



Outstanding Music Composition For A
Miniseries, Movie Or A Special

Dance In America: Lar Lubovitch's "Othello"
Elliot Goldenthal, Composed by

Eloise At Christmastime
Bruce Broughton, Music by

Fallen Angel (Hallmark Hall Of Fame Presentation).
Ernest Troost, Music by

Helter Skelter
Mark Snow, Composer

The Nazi Officer's Wife
Sheldon Mirowitz, Music by

Not to get too political on you guys, but are we STILL nominating Nazi Officer's Wives for Emmy's?? America, you should be ashamed of yourself.

CONFESSION TIME: I didn't see any of these shows.

WINNER: Fine, give it to the Nazi Officer's Wife. She may hate black, jews, gypsies and the like, but I hear she has the voice of an angel on high.

So there you have it, readers! My Emmy picks for 2004. And stay tuned for my Emmy Technical Awards Wrap-Up!! I know how you people love your wrap-ups.