Random TV Thoughts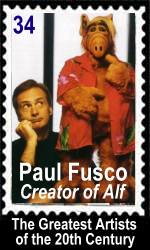 Where to begin?
So, I caught ALF's new talk show on
TV Land
yesterday. Now, I was a rabid ALF fan as a girl. Melmac, 40 stomachs, the whole thing.
I catch this new show of his, and I want to kill myself. I mean, is ALF this desperate for cash? Shouldn't he be giving handjobs in back alleys like the other
80's has-beens
? And the jokes(!): "Call me crazy, but shouldn't Different Strokes be a hospital drama?" OMG. 17 years too late and not funny then.
Speaking of strokes, did the original voice of ALF have one? Because surely this imposter who is anally probing the puppet's shell as we speak is not the original. It's like how Mel Blanc's son is the new voice of Bugs Bunny, and it sounds like Fran Drescher with Parkinsons? IT CREEPS. ME OUT.
And the cameos?! Henry Winkler (sporting a very smart gingham shirt, btw) saunters on stage for 2 milliseconds, says nothing, and leaves. WASTE.
The saddest part? I'd kill to be part of their writing team. I'm a famewhore!
Next up, the
Black Starz
network. I just don't really understand how they choose their programming.
I
thought
the point was to show movies that feature Black actors with themes that have an impact in the African-American community.
Well, last night, at midnight, Ridley Scott's 1979 thriller
Alien
was on. You know, that movie with all those black actors and themes? Alien??
I just wonder what logic prompts the Black Starz programming department... Is it because black people feel Alien-ated in the Starz community? And, in that case, isn't it insulting that the movie on
right after
Alien was called
Malibooty
? Its description reads:
Beach bummer with hip-hop stars E-40, Sticky Fingaz and Bad Azz making waves and frolicking with babes seaside. Brian Hooks costars. Written and directed by Barry Bowles. Also known as "Boogie Beach Bash."

(I swear to god, TVGuide.com me on this.)
Just things I think about.