Krispy Kreme's No Bullshitter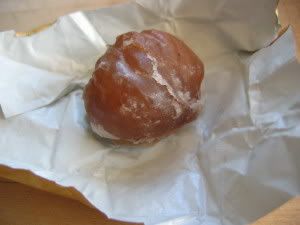 Yes, the very same brand that got me morbidly obese in high school gives the big "F YOU!" to Dunkin Donuts' "
Munchkin Policy
" (a new rule requiring you to buy 5 munchkins, no less), by offering 4 FREE "donut holes" to people willing to be "
Friends of Krispy Kreme
."*
Hold on a sec, I've got to construct a "best friends" necklace made out of two donut halves.
*Some of the "Not Valid In" Cities are Hilarie Clinton. To all of you out there in Hattiesburg, MS and Pigeon Forge, TN, my sincerest, delicious apologies.
ALSO: TODAY'S SIGN OF THE APOCALYPSE HEADLINE
98 Degrees Singer Not Done With Politics