Labor Pains
Happy Labor Day Weekend! Let's get to it, I ain't got all day.
4
FIRSTLY, an uncomfortably long air-kiss from me to President Clinton, who is in the
hospital for quadruple bypass surgery
. The upside? I hear his nurse has a little bit of a crush on him. The bad news? Here's his nurse:
Oh, President Clinton! Are you... are you having a leg cramp?! OK, why don't I go ahead and massage it, that should take care of it. There you go... (whispering) there you go.
4
Joan Rivers claims she
hasn't had that much plastic surgery
. Have you seen her lately? She looks better than ever -- and tre' au naturale!
Before and Laughter.
4

Urine Great Shape:
Drinking a cup of urine a day
will help you rid yourself of disease and loved ones.
4
Also of note:
Robots can break laws???
4

Definitely Not Kosher:
Austen Gullete, of Louisiana, has a pig problem on his hands... his sister caught him porking their pot-bellied Taiwanese pig "P-Pie". Once discovered, Austen fled into the woods, but physical evidence found on P-Pie (
vomit
) proves he's guilty. P-Pie is being rehabilitated at the local veterinarian with pillow talk and cigarettes.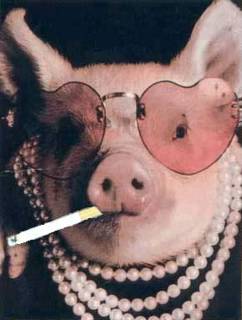 4
Clear your twisted mind with this
video of a dog
rolling down a car window in record time.
And a wonderful Labor Day to you all!!