Ol' Dirty Bastard: RIP in the Dirt, McGirt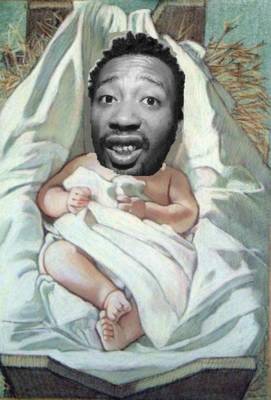 Well, Ol' Dirty Bastard (aka
Big Baby Jesus
) really put the "Dead" in Deadbeat Dad yesterday,
dying at the age of 35.
He reported breathing pains while in his studio, collapsed and died before paramedics could save him, shocking baby mamas everywhere.
Besides having 13 kids, only 3 of which he claimed his own, Mr. Bastard was famous for his "wild and crazy" antics, such as smoking crack rock, wearing bullet proof vests, and making terrorist threats. No word yet on whether the White House plans on sending any reps to the fyoon.
So, as a final goodbye to one of hip-hops most groundbreaking artists and lowlives, play one of my personal favorite Wu Tang songs,
Gravel Pit
, in memoriam.
(soft whistling)
(somber) Check out my Gravel Pit.
(sniffle) A mystery... unravel it.
(quiet sobbing) Remember what Old Dirty said:
I'll fuck yo ass up!
A good man. Ol' Dirty Bastard, dead at 35.