Tons of Mon-day
Well Hello! How was your weekend? Oh, sorry to hear that. Ehh, it was alright. Well you know how it is. Mmhmm. No, but I heard good things about it. He said what?! You are so much better than that!
Now that that's out of the way, here is some more of what you love.
4
The Soup Nazi's are invading America.
Next thing you know, those
Jew-hating bastard Frenchies
are going to have their fancy schmancy
Au Bon Pain's
on the corner of every 1234 United States Lane.
4
There's a toilet paper shortage in Connecticut.
Residents plan on using shredded Lacoste polos, crisp 100's, and the hands of the poor instead.
4
Beauty Pageants aren't just for good-looking
law-abiding
youngsters
anymore. [via
Blogmonkey
]
4
Take out a crayon and some lined paper, and draw your own conclusion:
Explanation Sought for Lobster Decline.
Dot Dot Dot.
Woman Eats 38 Lobsters to Win Contest.
4
Tails from the Back Side:
A Cambodian baby has been born with a tail.
Mother explains that baby really takes after its father.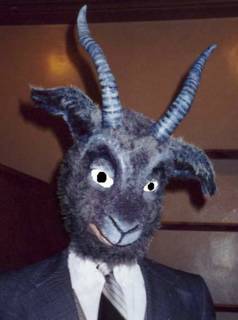 4
New fan-site related to the
Chinese Gymnastics Team debuts
.
4
Armed robbers in Norway steal Edward Munch's famous painting "The Scream."
Museum curators are begging for return of "
World's Most Valuable Mousepad
".
4
Finally, "Granny D" Haddock, a 94-year-old wheezing old woman stricken with numerous ailments,
runs for office in New Hampshire
. Armed with a wild turkey feather in her cap, she plans on walking 200 miles to garner support for her campaign.
"I am not a nice old lady,"
She hissed, while force feeding her great-grandchildren piping hot cookies and taking a hate-fueled afternoon nap following some heat exhaustion. The article ends on a depressing note:
If she pulls off the upset, Haddock says she will serve only one term. She turns 101 at the end of her term.
Ay noooo!