Trick or Treat, Bitch!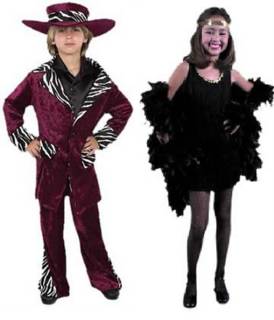 From the people that brought you Edible Diapers and Baby's First Electrical Socket comes
Pimps and Hos Costumes FOR CHILDREN.
Yes, that's right. With role models like
Xtina
and
Dildo-Mouthed Britney
, why pretend otherwise?? This was the
Halloween Costume
your daughter was
born
to wear... start early, and soon she may be promoted to
"Bottom Girl"
!
$47.95 is a small price to pay
- you'll make that money back in a week's time!
And who better to bitch-slap those neighbors handing out Tootsie Rolls and raisins then a
pint-sized Pimp
? (Please Note: Pimp hat is sold seperately.)
Hey Parents! When you ground your children, let them know you mean business!! Purchase this
Children's Prison Costume
today!
Perhaps your daughter is already homeschooled? No worries! This
Virgin Mary costume
will let the neighborhood fellas know "Hands off, boys! Only two years until my
headgear
comes off!"